Modern industrial real estate for the globally connected marketplace
Enhance your investment portfolio with our non-traded REIT, focused primarily on acquiring essential industrial warehouse and logistics properties that drive the global economy
Introducing IREIT
IREIT is a dedicated investor in real estate infrastructure powering the global economy.
We focus primarily on acquiring stabilized, income-oriented modern industrial warehouse and logistics assets that cater to the demands of last-mile delivery, e-commerce, and mission-critical supply chain operations. These are the properties that connect global supply chains to consumers, making them a vital component of any thriving economy.
With the rapid growth of technology and e-commerce, we believe the logistics industry has become increasingly complex, requiring newer and more technologically advanced buildings.
IREIT is committed to investing in this critical asset class, acquiring modern properties that meet the needs of the world's largest and most sophisticated occupiers.
We target properties located in top markets, primarily in the lower 48 states.(1)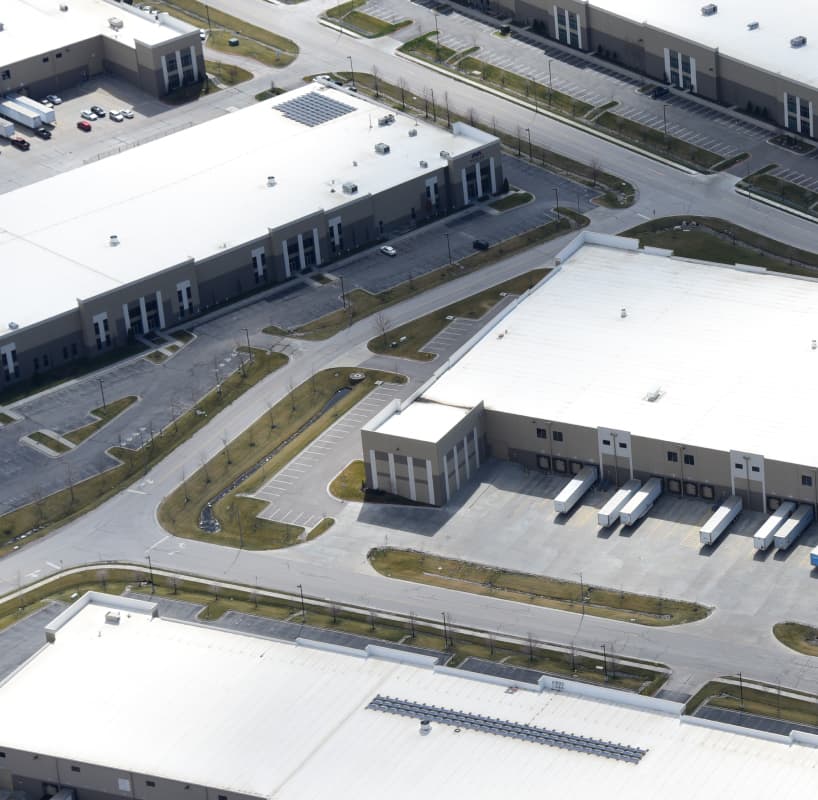 About IREIT
Through a blend of deep investment and development experience, proprietary data science, and in-house research, IREIT aims to build an income-oriented portfolio of industrial assets focused on taking advantage of secular tailwinds in the industrial sector, including consumers' shift to e-commerce, increased supply-chain resiliency and the onshoring of manufacturing.
Pictured: Industrial warehouse in Seed Portfolio (located in Kansas City)
BGO's industrial-focused IREIT is powered by strong industry leadership
Through its relationship with BGO, IREIT is supported by a team of highly experienced and knowledgeable investment management professionals. Their deep understanding of local markets and industries, coupled with rigorous research and data-driven analysis, forms the foundation of IREIT's underwriting process. Furthermore, BGO's long-standing commitment to environmental, social, and governance (ESG) performance, which includes a dedicated sustainability team, ensures that IREIT's portfolio is managed with a focus on responsible investing and long-term success.
Global Industrial AUM (USD)(4)
Contact the IREIT team
Connect with our dedicated team that works directly with private wealth managers, family offices and financial advisors to help their clients access alternative solutions.
Contact Us
Disclaimers/References/Legal
Videos depicted are for illustrative purposes only.
(1) There can be no assurance we will meet our investment objectives.
(2) An investor in IREIT will not acquire an interest in any other investment managed by BGO.
(3) The above AUM includes certain uncalled capital commitments for discretionary capital until they are legally expired and excludes certain uncalled capital commitments where the investor has complete discretion over investment.
(4) AUM is inclusive of industrial strategies across BGO's Equity Funds and Debt Funds. Industrial AUM includes uncalled capital commitments with an explicit mandate for industrial investment.
(5) The share class information represents the transaction price for each share class of our common stock for subscriptions accepted as of [ ] 1, 20[ ] (and repurchases as of [ ], 20[ ]). The purchase price of our common stock for each share class equals the transaction price of such class, plus applicable upfront selling commissions and dealer manager fees. The repurchase price for each share class equals the transaction price of such class. The transaction price presented is rounded to two decimal places.
This sales and advertising literature is neither an offer to sell nor a solicitation of an offer to buy securities. An offering is made only by the prospectus. This literature must be read in conjunction with the prospectus in order to fully understand all of the implications and risks of the offering of securities to which the prospectus relates. A copy of the prospectus must be made available to you in connection with any offering. No offering is made except by a prospectus filed with the Department of Law of the State of New York. Neither the Securities and Exchange Commission, the Attorney General of the State of New York nor any other state securities regulator has approved or disapproved of our common stock, determined if the prospectus is truthful or complete or passed on or endorsed the merits of the offering. Any representation to the contrary is a criminal offense.

Past performance does not guarantee future results. Financial data is estimated and unaudited. The words "we," "us," and "our" refer to IREIT, together with its consolidated subsidiaries, including BGO REIT Operating Partnership LP, unless the context requires otherwise.

Opinions expressed reflect the current opinions of IREIT as of the date appearing in the materials only and are based on IREIT's opinions of the current market environment, which is subject to change. Stockholders, financial professionals and prospective investors should not rely solely upon the information presented when making an investment decision and should review the most recent prospectus, as supplemented, available at www.bgoireit.com. Certain information contained in the materials discusses general market activity, industry or sector trends, or other broad-based economic, market or political conditions and should not be construed as research or investment advice.

An investment in shares of common stock of BGO Industrial Real Estate Income Trust, Inc. ("IREIT") involves a high degree of risk. These securities should only be purchased if you can afford to lose your complete investment. Please read the prospectus for a description of the material risks associated with an investment in IREIT. These risks include, but are not limited to, the following:

We have no operating history and there is no assurance that we will be able to successfully achieve our investment objectives.
This is a "blind pool" offering. Other than the Seed Joint Venture (as defined in the prospectus), you will not have the opportunity to evaluate our future investments before we make them.
Since there is no public trading market for shares of our common stock, repurchase of shares by us will likely be the only way to dispose of your shares.
Our share repurchase plan will provide stockholders with the opportunity to request that we repurchase their shares on a monthly basis, but we are not obligated to repurchase any shares and may choose to repurchase only some, or even none, of the shares that have been requested to be repurchased in any month. In addition, repurchases will be subject to available liquidity and other significant restrictions. Further, our board of directors may make exceptions to, modify or suspend for any period of time or indefinitely our share repurchase plan if in its reasonable judgment it deems such action to be in our best interest and the best interest of our stockholders, such as when repurchase requests would place an undue burden on our liquidity, adversely affect our operations or risk having an adverse impact on us that would outweigh the benefit of repurchasing our shares. Upon suspension of our share repurchase plan, our share repurchase plan requires our board of directors to consider at least quarterly whether the continued suspension of the plan is in the best interest of the Company and its stockholders; however, we are not required to authorize the recommencement of the share repurchase plan within any specified period of time. Our board of directors cannot terminate our share repurchase plan absent a liquidity event which results in our stockholders receiving cash or securities listed on a national securities exchange or where otherwise required by law. As a result, our shares should be considered as having only limited liquidity and at times may be illiquid.
We are a perpetual-life REIT. While we may consider a liquidity event at any time in the future, we are not obligated by our charter or otherwise to effect a liquidity event at any time.
We cannot guarantee that we will make distributions, and if we do we may fund such distributions from sources other than cash flow from operations, including, without limitation, the sale of or repayments under our assets, borrowings, return of capital and offering proceeds, and we have no limits on the amounts we may pay from such sources.
The purchase price and repurchase price for shares of our common stock will generally be based on our prior month's NAV (subject to material changes as described above) and are not based on any public trading market. While there will be independent annual appraisals of our properties, the appraisal of properties is inherently subjective, and our NAV may not accurately reflect the actual price at which our properties could be liquidated on any given day.
We have no employees and are dependent on the Adviser to conduct our operations. The Adviser will face conflicts of interest as a result of, among other things, the allocation of investment opportunities among us and Other BGO Accounts (as defined in the prospectus), the allocation of time of its investment professionals and the substantial fees that we will pay to the Adviser.
This is a "best efforts" offering. If we are not able to raise a substantial amount of capital in the near term, our ability to achieve our investment objectives could be adversely affected.
On acquiring shares, you will experience immediate dilution in the net tangible book value of your investment.
There are limits on the ownership and transferability of our shares. See "Description of Capital Stock—Restrictions on Ownership and Transfer" in the prospectus.
If we fail to qualify to be taxed as a REIT for U.S. federal income tax purposes and no relief provisions apply, our NAV and cash available for distribution to our stockholders could materially decrease.
We do not own the BGO name, but we are permitted to use it as part of our corporate name pursuant to a trademark license agreement with an affiliate of BentallGreenOak. Use of the name by other parties or the termination of our trademark license agreement may harm our business.

This sales and advertising literature contains forward-looking statements about IREIT's business, including, in particular, statements about its plans, strategies and objectives. You can generally identify forward-looking statements by the use of forward-looking terminology such as "may," "will," "expect," "intend," "anticipate," "estimate," "believe," "continue" or other similar words or the negatives thereof. These statements include IREIT's plans and objectives for future operations, including plans and objectives relating to future growth and availability of funds, and are based on current expectations that involve numerous risks and uncertainties. Assumptions relating to these statements involve judgments with respect to, among other things, future economic, competitive and market conditions and future business decisions, all of which are difficult or impossible to accurately predict and many of which are beyond IREIT's control. Although IREIT believes the assumptions underlying the forward-looking statements, and the forward-looking statements themselves, are reasonable, any of the assumptions could be inaccurate and, therefore, there can be no assurance that these forward-looking statements will prove to be accurate and IREIT's actual results, performance and achievements may be materially different from that expressed or implied by these forward-looking statements. In light of the significant uncertainties inherent in these forward-looking statements, the inclusion of this information should not be regarded as a representation by IREIT or any other person that its objectives and plans, which IREIT considers to be reasonable, will be achieved.

You should carefully review the "Risk Factors" section of the prospectus for a discussion of the risks and uncertainties that IREIT believes are material to its business, operating results, prospects and financial condition. Except as otherwise required by federal securities laws, IREIT does not undertake to publicly update or revise any forward-looking statements, whether as a result of new information, future events or otherwise.

BentallGreenOak Real Estate US LLC, Dealer Manager / Member FINRA

Check the background of this firm on FINRA's Broker Check

Learn more about FINRA at www.finra.org